I have to say, writing about cats so much lately, I have some hilarious & inappropriate jokes rolling around in my head.
So.
I've been Spring cleaning, since Chuck died.
I know, because my cat dying apparently gave me the push I've been procrastinating for a year, sad, right?
We took down Ryans crib, in the "big" bedroom ( IDK why, but I always call my bedroom, the big bedroom, I think because the big bed, is in it, or its the big peoples room? I'm not sure)
I moved the elliptical from the computer room, to my bedroom.
Start placing bets how long it takes to become a laundry holder, again.
I'm organizing the kitchen & the computer room.
So, it's also been REALLY nice outside, hello Spring.. for 2 days, until it snows again, at least.
Max, my giant asshole cat, has been even more of an asshole since Chuck died. I had the windows open 2 days ago & he was sitting looking at another cat, Fluffy 2, outside the window.
I was sitting right here, writing to you guys & suddenly Max walked by & bite me.
Not like, a love bite, like cats do but his entire teeth, into my leg kind of bite. The kind that leaves 3 white holes in your leg for about 5 minutes before it even starts to bleed.
The kind of bite that leaves your leg actually SORE for houirs after.
This kind of bite;
Plus, you can see my leg hair, sexy huh??
I know you like it.
Mo'Nique, call me.
When Mike & I first moved to Florida, we had Max, he was probably 8-10 months old at the time & he was on our screened in lanai.
Another cat was outside & they started doing this weird talking, mrrowing thing. I thought it was HILARIOUS so I stood by one of the doors & was watching, with Mike.
I was a few weeks pregnant with Andy, maybe.. 12 weeks, or less?
Suddenly Max freaked out from this cat & as he went to bolt past me, he attacked me.
I'm talking blood POURING all over the floors, just from the time it took me to walk across the house.
A cat bite is the second dirtiest bite you can get.
A human bite, is #1.
As much as we cleaned it, the bites & scratches were SO deep & so many, they got infected. I had to go to the emergency room, pregnant & get antibiotics, of course they checked for the baby, which took I kid you not, 40 minutes & 3 people( eek) to even find a heartbeat.
I had to find my past tetanus shot, which took an entire 12 hours of panicking because tetanus shots, while pregnant, especially, in the first trimester, is a class C, or D, I can't remember, but it isn't ideal, but, neither is tetanus, because it KILLS you.
Of course, with animal bites comes the law. Some short little guy who was picked on in high school & couldn't become a cop, so he became an animal officer or whatthefuckeverhewas came & literally, insisted my pregnant, in the midst of vomiting self come outside where he scolded & fined me.
We'd just moved to Florida 2 months earlier & apparently I forgot to register my cat, with the state, or something.
Cause you know, they have like, cat most wanted pin ups all over the station, they need to know who is who.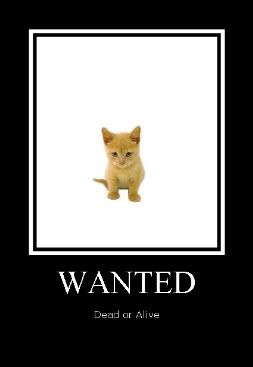 Damn.
That's just cold.
So yeah, Max bit me. Hard. If he'd bitten one of the kid's he'd probably be gone.
It's like, God just doesn't want me to have cats.
But, it's cool, because last night I learned the valuable lesson that no matter what, little boys are just in grained with certain traits.
Like:
-Pointing & laughing.
-Fart humor.
-Saying "na na na na na na!!"
-Belittling a cat who attacks their mother.
While never having seen someone do it before, Andy come out of the bedroom last night cracking up, pointing & laughing & yelling "Max is a stinker!! Nanana!! Haha! Look at HIM!! I put a bib on him!! Stinky cat!!"
So, I'd say Andy redeemed his mother, by making Max, look like a stupid asshole.
Agree?