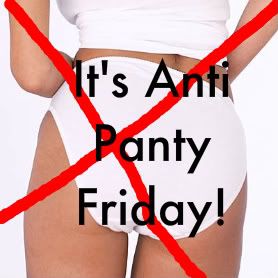 For Katie-
It's....
Anti Panty Friday
(an-tee pan-tee FRI-DAY)
-The day made up a week or so ago, to convince myself that going pantyless on a daily basis, can be shared with the public, if its made to feel "group" like, and special.
As long as your not pulling a Brit Brit, and its a stay at home kinda day, join in!
Really, stay at home, because no one NEEDS to catch a glimpse, in public. Not even of Brit Brits lady bits.