My 26th birthday is coming up. Ha. I'm getting old.. Luckily. I'm not as old as many of you, so, for that I'm thankful.
I thought I'd indulge myself for once & make MY SELF a birthday wish list!! Part of my "new year" is reminding myself to think about the woman I am, not just the mother I am. (insert Lifetime TV music here... the woman she is..not just the mother..dum dum dum...)
So. Here is is.. My wish list for my 26th Birthday.. And yes, my imagination is unlimited. I know.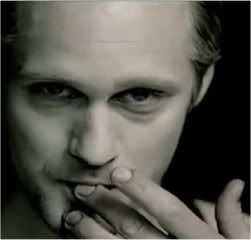 1-Eric.
<----
Just for a day. With Mikes permission, of course.
2- Gift Certificates to
Victoria's Secret.
No. Not for lacy panties. One I dislike the word "panties" and two because I don't wear underwear. I like their body scrub & I'm out.
OKAY! WORLD CRISIS!!

I just was pulling up VS to link here & they discontinued the scrubs.
Moving on..I'll wallow in my sadness & loss of scrub's later..

3-This mandoline, from Amazon. I desperately need it to slice things paper thin. Dead serious.
4. A day all to myself in a nice plush hotel room, with all the amenities. While the boys are cared for & taken care of, 24 full hours holed up ALONE.Ha.Ha.
5. A night with out my kids with my husband. People say " ok.. so do it" No. My children don't sleep & have sleeping routines like normal children. With out me, and Mike "in place" they WONT sleep. I think we still have a few years until this will happen, but I like to remind myself it will happen, someday! ..Maybe when I'm 30... Eeww 30..
6. The toothy vagina box, from Etsy.
(
ADULT RATED
for full link, click
HERE
.)
I didnt find this one..for the record. My dear friend Kelly's creepy ass did.
I love how its a pretty little ornamental box then BAM.. it's all....toothy vagina in your face!
Could you imagine a guest opening that?? I'd leave it in the bathroom, that'd be one way to find out who snoops in your cabinets when they pee, huh??
7. A Canon Rebel. I have always always wanted a "real" camera & its about time I finally stop talking about it & do it.
8. Peace on Earth....because its the nice & PC thing to say and I'm just selfish enough to say, however, if that isnt available I'm more than OK with 50 million or a new house.
So. Happy birthday week to me. I had my first "shit I'M the old one now" experience this last summer & now, with the dawning of a new age, I am sure there will only be many many more to come.
Cheers to that!