..Don't feel so good.Could I have the piggy flu?


..Have no Christmas spirit this year.Seriously. I've learned my lesson. Each year I swear it'll be a simple Christmas & I get "that one toy" then I go all balls to the wall & get a ton of crap & max ourselves out full of excitement & anticipation for my family to be tickled pink with my love & gifts & thought, only to be dissapointed that no one cares about anything but the one item I started out with. Duh.
..Lost 14 pounds in the last few weeks from stress ( hey, stress can be my new BFF if it shrinks my ass ok??) I posted about it on Facebook & my best guy friend, of 11 years said "Wow, you must have been fat."
REALLY??
REALLY????
..HATE The United States Air Force. If I could, I'd personally tell them face to face to suck it,then I'd kick them in their shins & run, fast.
..Don't love being an adult, in fact, I don't like it a BIT much of the time!
..Have reoccurring sexy dreams about Michael Voltaggio (Top Chef) & Alexander Skarsgard.
And I don't mind it one bit..Neither does my hubby, at this point..yaknowhatimsayingehhhh????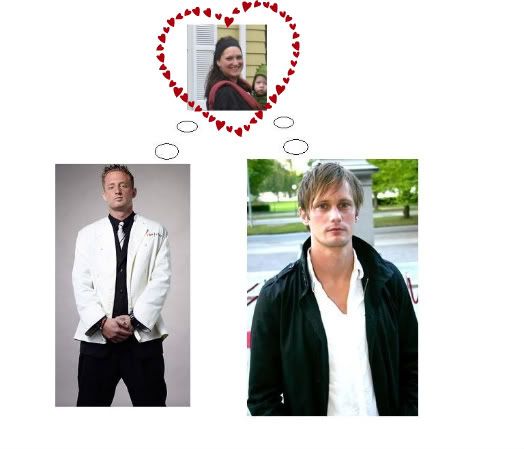 My computer doesn't let me Twitter(Tweet!). Seriously, I just don't even try anymore.Someone once left a comment & I'd be lying if I said, I haven't been waiting until this very moment to use her phrase.. So, here it is...
My computer must just be retweeted.
Dont get it. Wouldn't you think that if you order a picture from a site, like Kodak, for example & they give you the size options, wouldn't you think all those sizes would be easy to find frames for? As they're obviously "common" or "standard" sizes..RIGHT??

WRONG!
Finding a 20x30 frame is nearly impossible & I demand Kodak put that as a disclaimer to other people assuming like I did. (Joanns has ONE poster frame that size, FYI!!!)
Am not feeling very funny lately. I mean.. Nope, just not feeling funny. I used it all up in real life & honestly, if I told you all the hilarious things I think I do ALL day long, you'd all probably think I was crazy. Some things, you just have to be there for.
..Need to make some Christmas cookies.. so I can welcome back my 14 pounds.