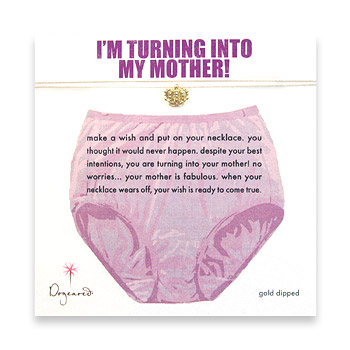 No, not really, thank God. I love you ma but after our last adventure, I worry about how you find your way home every day.
Just kidding, sort of. I'd be lucky to turn into my mother, a successful woman, wife & mother of 1 fine child & myself.
I find myself, as years go on with Mike, finding myself, bitching to my mom about things Mike does & realize "ohgod, thats what she said to ME all those years!!!"
Like "Don't use my nice sewing scissors for Popsicle/wire cutting!"
I have one decent pair of sewing/craft scissors right now... because my mom gave me her old ones to hide from my husband incase I need them & he has used all other craft scissors for Popsicle/something stick that left residue I have to scrape off/wire which ruined the blade/some other weird thing Mike tends to do when he gets "working on a project."
What else.. there have been several things.. like, dishes.. or probably some bathroom related thing related to toothpaste or other messes..
So I just wanted to say.. Sorry mom. I was a silly child & I didn't know any better. Now I have a
husband
of my own, and I know what its like... to have a
child
.
Thanks for putting up with me all those years! Everytime I go to Joanns.. I want to buy you the $400 pair of sewing scissors to apologize.. I don't of course, geeze, we're broke! But I understand what you were telling me, all those years.