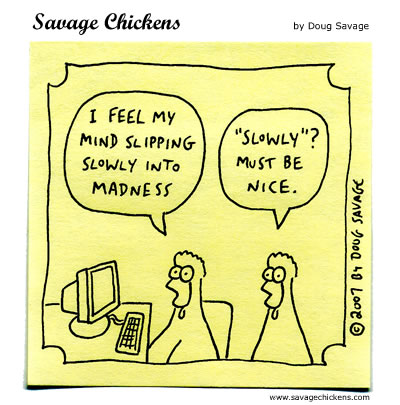 Let's see. I started last weekend out with a friend telling me someone on was on Facebook, telling people I was in London, got mugged at gunpoint & needed cash, quick!
I was able to see my Facebook on my Blackberry, even after the hacker had changed my email & password associated with my Facebook, and denied the request of e-mail change. Thank goodness!
I of course, went around changing passwords as sometimes, I use the same password for other accounts. Sure enough, the one other that was the same combo of email & password was my EBay account, in which *I* had spent $3,000 in electronics over at the Australian EBay site.
Ha!! I however, worried that since PayPal & EBay are linked, this person might somehow be able to get to my PayPal account, even though the passwords, etc weren't the same. So, that turned in a long time of trying to find a person on a telephone ( which doesn't exist for EBay, I'll have you know) Which ended in Mike & I canceling all our debit & credit cards. We figured we'd rather go through the process of getting new cards than even a slight chance we'd need to risk fighting any fraud in case it found its way to us.
Awesome. That's how that entire miserable day went!
I resigned to a weekend of no ( aka like..20 minutes) of email use. Instead, we'd do a weekend of whatever, just not the computer!
Andy & I made Jelly, from the grapes growing in our yard..
We went to the second biggest Fair in the state of Ohio!
We cleaned the heck out of the house!
I let Sunday be a "whatever" day. Mike even managed to talk me into letting Andy continue a mural on his wall "just for today" after we found out WHY he'd been playing so quietly alone for more than 20 minutes! I believe the words "stifle his artistic side" were used several times...We explained carefully that JUST TODAY he could do it, and yes, today we cleaned it off & he "got it" We're not confusing our children with one day you can. one day you cant stuff, thankyouverymuchMom.
I'm usually pretty uptight about things like, oh.. walls being colored on & cookies for breakfast but I have to say.. It was one of the "mostest funnest" days we've had in a long time!!
Andy picked up a phone of mine that he plays with & stared at it, walked to me & said "Verizon Wireless" and pointed to the script on the phone.
Needless to say, we've been very busy with the most important things, Each other.
So, winners will be updates soon & reviews & giveaways back on, I'll just be a week or s behind time.
Stay tuned!