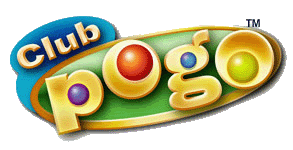 I love gin. No, not the drink. The card game. I absolutely love it! However, I don't have anyone to play with so I go to
Club Pogo
, to get my fix on their Jungle Gin game.
Jungle Gin is just one of over well..I can't even count how many games, available to play, on Club Pogo.
I've been playing
Squelchies
& Jungle Gin non stop, I haven't even begun to delve into the what seems to be, millions of other games at Club Pogo, however.
Two of my readers will win memberships for
Club Pogo
, thanks to the great folks over at EA Games & they will get the chance to check out the hundreds of games I'm not savvy enough to attempt.
Tell me your favorite type of games, card games? Word games? Club Pogo has all of those plus more. Enter by telling me what game, or type of game you would play most with a Club Pogo membership, only one post per day!
I'll draw 2 lucky winners one week from today, Good luck all!!