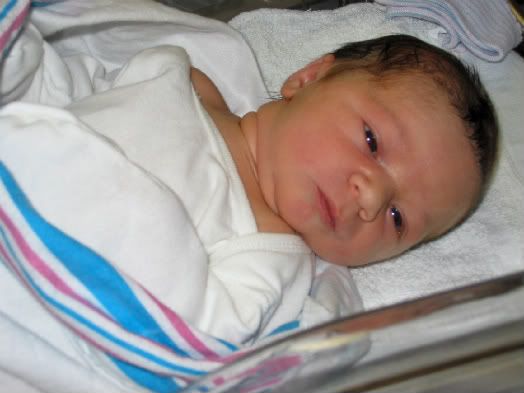 HAPPY THIRD BIRTHDAY ANDREW LEE!!!
At 11pm I started pushing.. and pushing & blah blah blah.. I hadnt gotten to eat ( jerks) since the luna bar I sneaked in the AM & damnit I was EXHAUSTED. Finally I said "OMG GIVE ME A C-SECTION..
NOW!!!!!!!!!!!!!!!
" And we headed off to do so..
You came into the world at 2:19am, weighing 8 lb, 11 ox and at 21 inches long. The first thing my doctor told me was "wow..if I'd known he was that big I'd have done this earlier!!!" You seemed pretty big at the time ( if only they'd have met your brother huh???)
You had such a cone shaped head from a long 3 hours of pushing your daddy later told me "I was scared you BROKE him!!!" I heard a tiny cry, saw Mikes tears & you were just glimpsed to me.
I assured Mike to go with you & I watched the clock, laying on a cold table, shaking uncontrolably as they tried to find a medication to make my quakes stop. I was so terrified that as long as the time was taking, you wouldnt know who I was & tears rolled down my face.
Finally, 45 minutes later I was wheeled in to see you peeing on your dad, after a bath that I hadnt wanted to be given.
I laid there & some bitchy nurse kept you until my mom said "HELLO.. CAN SHE HAVE HIM!!" I was just in shock...
They handed you to me...For the FIRST time I got to hold you!!!!
You were, a great nurser from the start!! I refused to give you a pacifier, determined to make it work & was given rude comments by even the doctors. The nurses steered me wrong & the 3 (and Grandma!!) spent a hellish next 3 days with no one sleeping more than an hour at a time. I couldnt move, I was in so much pain & Andy.. you just wanted to nurse & that was IT. Dad loved you from the second he laid eyes on you, but he had just lost his own dad, so he wasnt exactly SUPER helpful, he got a bit angry with me sometimes I think. I dont think either of us prepared for the fact that I wouldnt be able to move myself even to pee for the first 18 or so hours. Dad really had to do it ALL!!!! We'd all been up a LONG time & holy crap.. WE HAD A BABY!!!!! I was so determinded to do it ALL MYSELF.. I have to say, it was a tearful few days for me Andy.
An angel, in the form of a nurse came back after 2 days off & gaped at me "Honey..have you STILL not slept??" as I tearfully nursed you. She sat there a minute & then asked "what are you doing??" which I switched sides, as they all told me to do. "I'm changing sides for him..they said 10 minutes one side, and 15 another"
This sweet woman, who made more of a difference than she wilL EVER know says "Oh NOOO.. Let him go til hes done!!!" And sat there, for 50 minutes until you smacked your lips off of my breast & fell into the deepest sleep you'd had since you left the womb.
Sweet ..Peace.. This fabulous nurse made sure I got let out a bit earlier than I might have been otherwise & we headed home!!!!