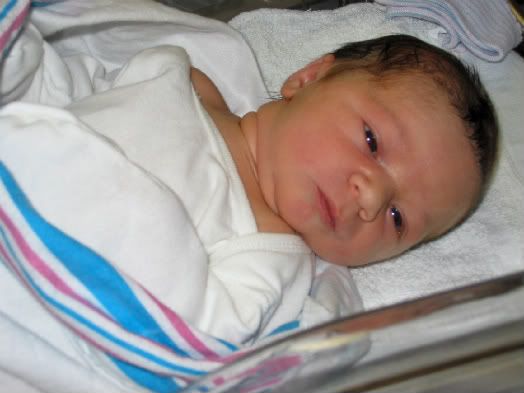 Ah yes, My widdle monkey moosky is growing UP! Andy ROO will be the big T-H-R-E-E this July & I of course, am hosting a BIG birthday bash to celebrate my first born!!
July 17th 2009 is Andy's THIRD birthday birthday!!
On July 16th I showed up, 42 weeks pregnant to a birthing suite in Cape Coral, Florida. I'd been walking around since 37 weeks anywhere from 1-3 cm dilated & for the love of crap, no one could believe I was yes..STILL PREGNANT!
My mom spent an entire MONTH with us in Florida, just waiting for this stinker to come out before I caved from the pressure for an induction at 42 weeks.
Andy's due date was July 6th, 2006. Andy was born July 17th, 2006 at 2 in the morning.
Long induction, long labor, long pushing & then a quick c-section.. which of course, was a long recovery!
To celebrate the entire WEEK that I walked around angry as hell than I was yes, STILL pregnant, I'll be having a FUN FUN FUN WEEK of reviews & giveaways, posts & celebrations!!
...Hell, I oughta do 2 weeks because that's how long I resisted induction huh??
See that cute little button in the right corner of my blog?? Yeah, GRAB IT!! Post it on YOUR BLOG. Leave me a link to your page in my comments & each person who grabs that button for their page will get THREE extra entries into ALL contests for the ENTIRE month of July!!!