Part of a relationship is keeping the spark alive. Mike & I will are celebrating our third wedding anniversary TODAY, and seeing as how we have two boys under the age of three, well.. sometimes its hard to remember that the *us* is
also
him & I. Not
just
him & I
and
the boys.
Since Mike & I first started dating we've always left little notes for eachother, but they get lost in our school papers, or by the computer & our fridge leaves something to be desired in terms of magnets & papers meant to be found.
Now I've found out about
Mayfair Lane,
and their amazing new products,Happeez.
Happeez
are everything from frames to clips to notepads that stick where magnets dont. From stainless steel fridges, to mirrors, wood panelings,even vinyl!
My favorite thing about
Happeez
is that they're resuable . We've all seen those stickable clips, hooks, etc. Well you use them ones & then need to toss them, or replace the back. Not Happeez, you simply wipe the back of ANY of these products with a vinegar based cleanser when needed ,dry & they are like new! They dont leave a residue behind, or marks on walls yet they hold firmly, REALLY firmly!!!
One of the things I've found out in these last 3 years of being married, it is even more important now to leave those love notes than it was before we had kids.
Happeez
has been helping Mike & I do so for awhile now & I am not only falling deeper in love with him, but I am falling more & more in love with my
Happeez
too!
Check out my fridge prior to finding out about this great new line from
Mayfair Lane
.
Yeah.. OK place for a sweet message but kind of.. um.. messy & gross?
Check out my fridge after Happeez got ahold of it!!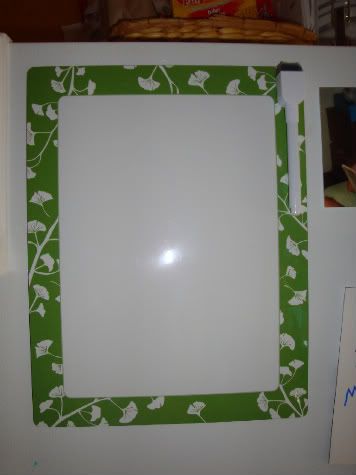 Now that we've found
Happeez
, I dont know what makes me happier, seeing a note from Mike, or the adorable designs on my
Happeez
products?!
My sister & her husband just bought a house with a stainless steel fridge & she was not too thrilled to find out magnets don't stick so I know what she will be getting for her next gift!!!
I'll be replacing the ratty green calendar on the side of the fridge with one of the adorable wipe off, reusable ones ( eco friendly!) ASAP as well!!
I absolutely love
Mayfair Lane
& their gorgeous designs, products & prints. Check them out & tell me what your favorites are!!