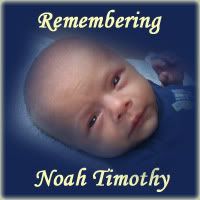 I wanted to take a minute today to share
Noah's

Story
, for those of you who
don't
know it..
I really want to pass on
Rachel's
wish.. and ask that ALL of my readers help us give this family our help..
Here is what Rachel is asking..
"Here is what I need, I won't tell you why I need it but just know it's a little project of mine. Remembering Noah. I've talked about this with a few people, very few because I am trying to keep this hush, hush for now. J doesn't even know anything about this. Since Noah passed away, we've sent him balloons on just about every occasion. I've always attached our address and you wouldn't believe how many have been sent back to us with nice little notes attached telling us of how they found the balloons and how our thoughts about Noah (which were attached as well) brought them so much joy, sadness and happiness to be apart of it all. So, my

bloggy

friends I am asking you to join me in this. His third birthday is

fastly

approaching and I want to do something for him. It's not going to be grand, it's not going to be seen around the world, maybe in some parts of the world but I am not expecting greatness here. It's just something small that helps us all heal and something that will keep my mind off the heartache that comes with celebrating a day that I should have with him. It also keeps his memory alive which is what I want more than anything in this world. So, here is where you come in. I need a picture. A simple picture of you, your children or anything including Noah's name or of your children releasing balloons for him. I am thinking balloons because that is something special we have done since day one. Write his name on a balloon, color it, paste it. It doesn't matter. Or you can do something else, anything you can think of. If you could add where you are from some where on it, I would love that but you don't have to. E-mail it to me at RachelCoviak@aol.com and be a part of celebrating a little boy who is gone from this world way too soon."
That's
simple enough, take a picture, make a sign, write
Noah's
name in the sand & send it to Rachel. It will take ONE minute out of your day,but these pictures will remind everyone of Noah for all of eternity.
Noah's memory deserves much more than that of course, but if everyone can contribute ONE picture from all over the world, just think of what an impact that will make for
Noah's
memory AND his family.
For everyone who participates in this, you will get FIVE extra entries into ALL of my giveaways the entire month of May. Just CC me in your email to Rachel with your contribution to her project & you can enter 5 extra entries into every contest, just claim them Noah 1,2,3,4,5.
If you Twitter about
Remembering Noah
you can have 2 extra
entries
into each giveaway for the month of May as well. Enter them in comments as Twitter 1,2.
Rachel is a friend of a friend of mine, so I know not only does she have to be an amazing person, but that Noah was, IS too. Lets celebrate Noah and his memory & help Rachel do something AMAZING in honor of sweet Noah.
I'll be going around town this next month, in my yard, etc and making Noah signs & pictures for Rachel.. I hope you will be to!!!!!!!!!!