Okay not really, but I COULD have I am THAT excited! Yesterday I came acrossed this lovely ladies blog
Through Hazel Eyes
and found a whole new world of blogs & blog oppertunities to *get out there* so to speak in the blog world.
Its called
Momdot
and its a great resource for fellow mama bloggers. I'm having a slow time getting through the site because our new Anti Virus program is creating some internet problems for me lately, and uh.. I'm not as internet/computer savvy as I'd like to think I am.
As some of you know, I've been blogging on
Away in Arooba
for awhile now, it started as just a way to not send out group emails, updates & stories to family, because lets face it. I spent alot of time doing that for all those emails to be ignored by people who dont care & to be missed by those who do. I would do my posts of utter randomness & sheer blabbering & I personaly, find myself absolutely HILARIOUS but I'm not sure my grandma thinks my rhymes to my cat of "What the fuck Chuck?" are quite as funny as I find them. So I started this blog.
I DO love muffin tops, they're the best part of the muffin. And I've wondered my entire life * up until last month,
check THIS out
) where squirrels poop. So I combined the 2 in a random quickly needed title to make a joke about a picture phrase I once severely messed up -
It was an EYE. a ROCK ( okay a STONE) and this...

(I googled cartoon AND muffin AND images & it looked like a freaking roll to me, okay???)


and my life long quest to find squirrel shit
( found it!! -->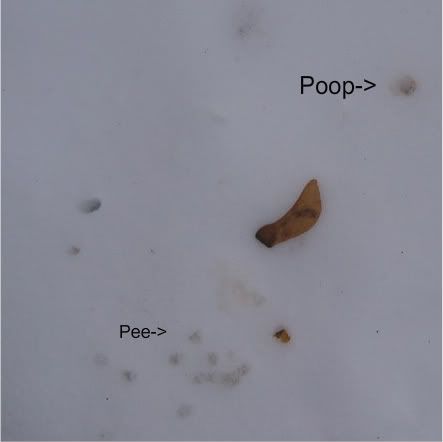 Okay I'm getting off track.. I got comments today from people who
1- arent related to me and who
2- dont even KNOW me!!!!
And one even told me I am hilarious.. I think I'm in love with her now, poor woman has no idea what she's started....
I KNOW! This may seem like a small thing to some of you, but to me, its reassurance that someone other than my dear mother who has to call me funny, finds me funny!!! Its inspiration toi keep on keeping on, be myself & blog blog blog!! And thats what I plan to do
I fully plan to have my children watch LOTS of Thomas the Train while I obsessively stalk these poor unknowing ladies blogs, websites & find out how I too, can become a SUPER BLOGGER!!!!!!!!!!
Now..if you'll excuse me..I hear a call of "I gotta big turd mama" from the hallway.
xo!
PS- To all you lovelies leaving me comments, I'm having a ssllloowww time learning how to find all of you when some profiles arent available so, bear with me, I appreciate all of you TREMENDOUSLY, I'm just a little...slow at times.